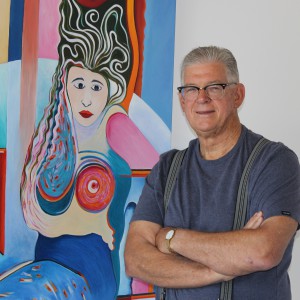 Born in Australia 1948. Lives and works in Melbourne.
Shelton has always painted since growing up on a dairy farm in the country. He went to Art School, Melbourne University and become a Secondary College Arts and Technology teacher. This was followed by a five year term of Lecturing in Teaching Mythology to under-graduate art teachers. He went back to the classroom in 1982 to just teach and aspire to run the best art department in the state of Victoria.
Since 1989, he has created and produced thirteen large one man exhibitions that loosely follow his creed. ART = LIFE.
When not wrestling with the political foibles and complexities of those who think they know what is best for all of us, he returns to the sweet, colourful and curvaceous things we all need: food, flowers and these underlying female forms within the landscape he grew up in. His most recent exhibition marks a major directional change as to what constitutes the life within his art.
Exhibitions
2017  The Equation … 2 / / + 3 ) ( ( = ? ! – Quadrant Gallery
2016  Sea Shape by the Sea Shore – Tacit Contemporary Art Gallery
2013 – 2015  Cast – Tacit Contemporary Art Gallery
2015  Featured Artist – Tussock Upstairs Gallery
2011 – 2013  Hard Granite Soft Rock – Tacit Contemporary Art Gallery
2008 – 2011 Just a painter now – Manningham Gallery
2005 – 2007 Growing Grumpy Disgracefully – Manningham Gallery
2001 – 2004 Trees, Travel and other things – Manningham Gallery
1999 – 2000  The Mountains – Chiara Goya Gallery
1997 – 1998 Figurescape – 98 – Manningham Gallery
1995 – 1997  Falling Down – Manningham Gallery
1992 – 1994 Directions Where? – Doncaster Council Gallery
1990 – 1992 Kakadu to Cairo – Doncaster Council Gallery
1987 – 1990 Paintings and Drawings – Doncaster Council Gallery